How to edit the identification scan step, and what all the options mean.
When setting up centralized screening with Protect, you will need to choose how you track which assessment belongs to which individual — so that you know who passed and failed assessments, and have the option to do contract tracing if needed.
You may want to make changes to how the identification scanning works, and Protect lets you customized this step. Below, we'll go over everything you need to know.
What forms of identification can be scanned with Protect?
Broadly speaking, Protect lets you identify individuals in three ways:
Scanning the QR codes that are generated when the individual uses Protect to conduct a self-assessment.
Scanning your employee badges.
Manually entering names.
If you want to use your own employee badges for scanning, you may also want to go through an additional setup step — more on that below.
How do I customize the ID scanning options?
(Note: you can find more information about editing all of the assessment steps here if you want to update more than just the ID scan).
To customize how scanning works, you'll need to:
Log in to the Protect admin console.
Open the Questionnaires menu, and select the Location that you want to customize.
Find the "Scan Identification" step, and expand it by clicking the dropdown menu on the right.
Here you have a number of options: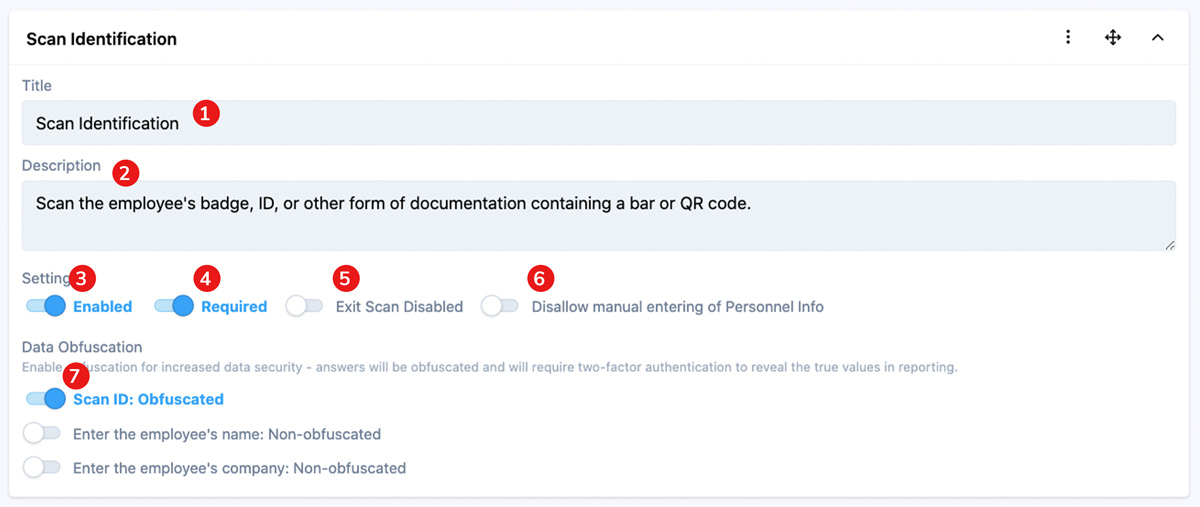 1) Title: You can edit what this step will be titled in the Protect app.
2) Description: You can edit the instructions of this step to be more specific to reflect your organization's process.
3) Enabled/Disabled: Lets you enable or disable this step altogether.
4) Optional/Required: Lets you choose if the ID scan is mandatory or can be skipped.
5) Exit Scan Enabled/Disabled: Lets you add an "exit scan" in the app. This is allow your screeners to scan people both as they enter your location, as well as when they exit. Your reports will then also reflect whether the scan was done when someone entered or exited.
Exit scan enabled in app: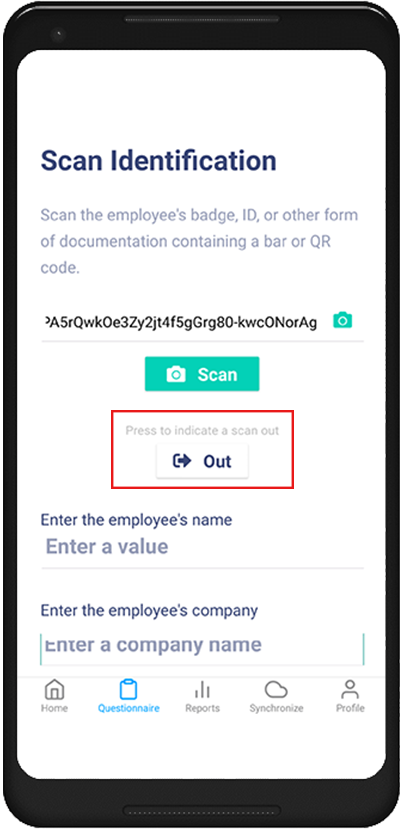 6) Disallow/Allow Manual Info Entry: This lets you enter an employee's or visitor's name manually during the screening process. Enable this step if you expect that some people will be coming to your location without employee badges or Protect QR codes to scan. That way you can still screen them and record their results.
7) Obfuscated/Non-obfuscated Scan ID: This setting controls whether the personally identifiable information (PII) from ID scan data will be hidden or shown in your reporting (i.e.: .csv exports) by default. Obfuscating the data gives you an additional privacy measure — the only way to reveal the PII if needed will be by going through a 2-factor authentication process.
And that covers the main options for the ID scan step. What about setting up employee badges, more specifically?
How will Protect know which employee badge number corresponds to which employee?
By default, Protect works with you manually entering the visitor's information during screening, or scanning the QR code on their phone if they have set themselves up on Protect for self-assessments.
But what if you want to scan your employee badges?
Protect's is able to automatically pull the information from any QR code or barcode when scanning, which means that if your employee badges store the employee ID numbers in the barcode, Protect will be able to make a record from them.
To avoid cross referencing your reports later, you can associate your employee numbers in Protect itself. To do this:
Log in to your Protect admin console.
Go to the Reporting menu, and open the "Upload Employee Info" tab.
From here, you will want to upload a file with your employee numbers and employee names to associate them in Protect.
Your file can be in a CSV (.csv), JSON (.json), or Microsoft Excel (.xlsx) format, and it should have the following columns:

id: The employee badge ID
name: The full employee name
company: The official name of the employee's company
What if my organization's employee badges don't have barcodes or QR codes?
If your organization's employee badges don't have barcodes, consider using the Protect app's QR codes instead. All employees have to do is download the app, enter your location code and their names, and they'll be ready to get screened.
For alternative solutions using NFC or RFID scanning, get in touch with us directly.