Understanding how Protect's Self-Assessments work.
Why use self-assessments?
Protect's Self-Assessments are the easiest way for organizations to have their employees and visitors check themselves for symptoms before they visit your location. It's the primary way businesses use Protect to conduct employee screenings, log the results of their assessment, and have validated individuals scan into the location quickly.
What do you need to conduct self-assessments?
To have your employees and visitors do a self-assessment, you'll need to make sure they have access to two things:
Your Protect location code;
A mobile device with the CrowdBlink Protect app installed.
You can find your location codes in the Protect admin console. To make it easy for people to self-assess, give out your location code to employees and visitors in advance. To let your staff and visitors know the code in advance, consider:
Emailing the location code to everyone at the company;
Distributing it through internal communication channels;
Printing it out and physically displaying it at your location;
Doing all of the above.
Your employees and visitors will also need to have a mobile device and install the CrowdBlink Protect app to complete their self-assessment.
Related:
What are the self-assessment steps?
Any employee or visitor that needs to conduct a self-assessment will be led through 6 simple steps:
Step 1: Open the CrowdBlink Protect app and enter the location code.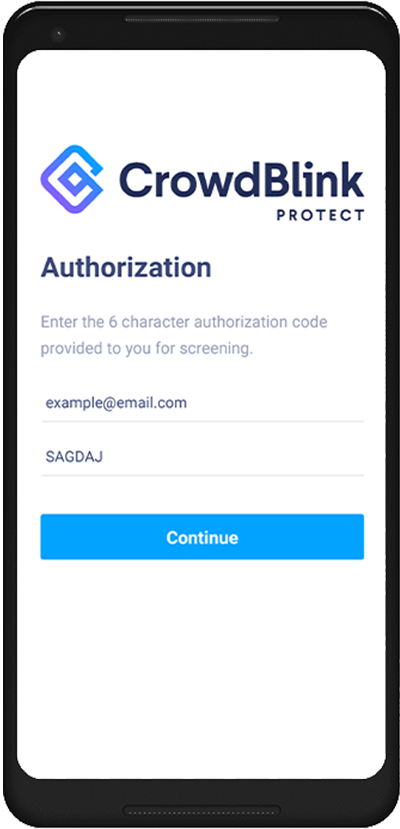 Step 2: Set up a profile and agree to terms and conditions.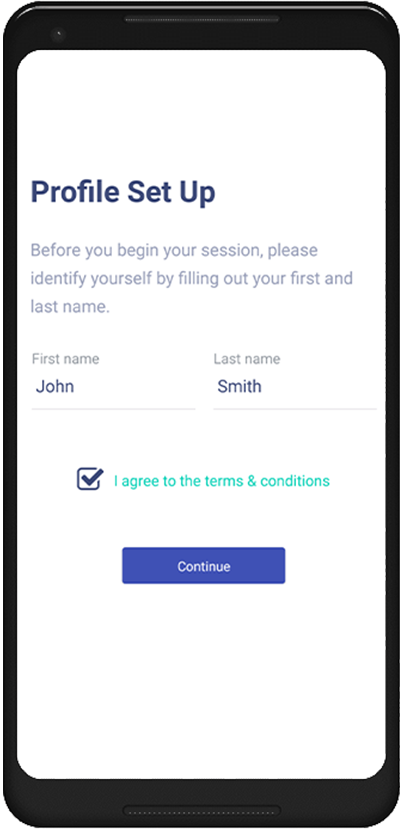 Step 3: Getting a yellow "Screening Required" message, click Start.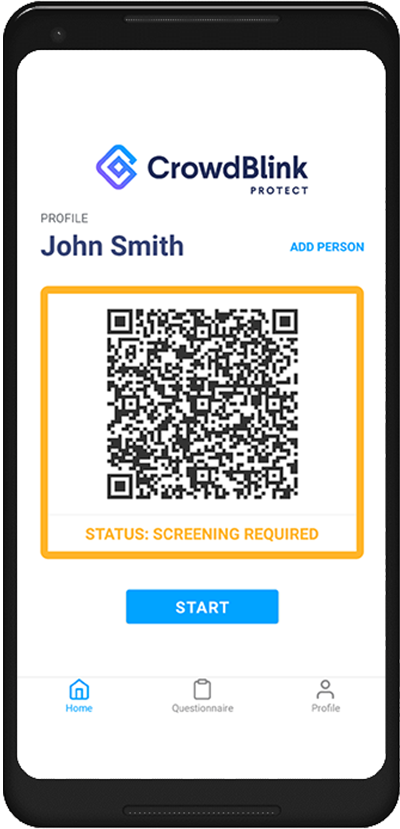 Step 4: Complete the self-assessment, which (typically) means answering a symptom questionnaire.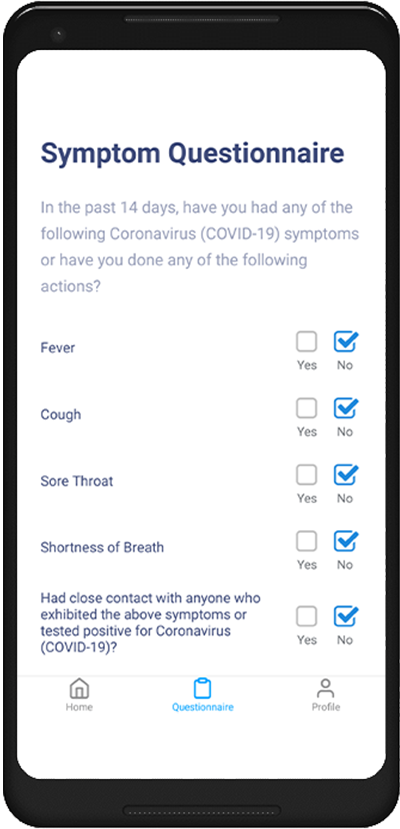 Step 5: Receive a self-assessment result, which can be a PASS or a FAIL.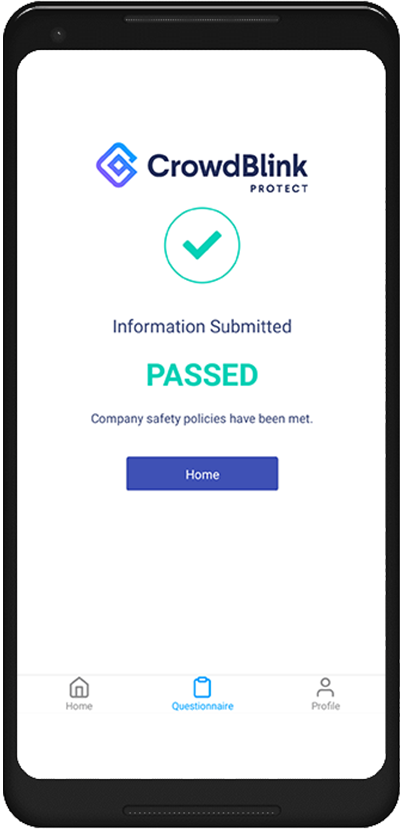 Step 6: If the self-assessment has been passed, the employee or visitor will get a green "Screening Success" QR code, and will use it to get scanned in when they arrive at your location.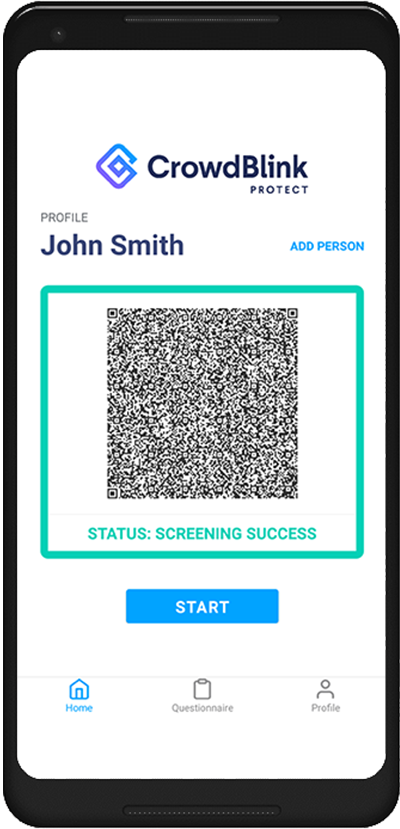 What does a FAIL assessment look like?
Employees or visitors who fail to pass the assessment questionnaire will get a fail result.
Example: responding "Yes" to Fever and Cough questions in a Covid-19 symptom questionnaire.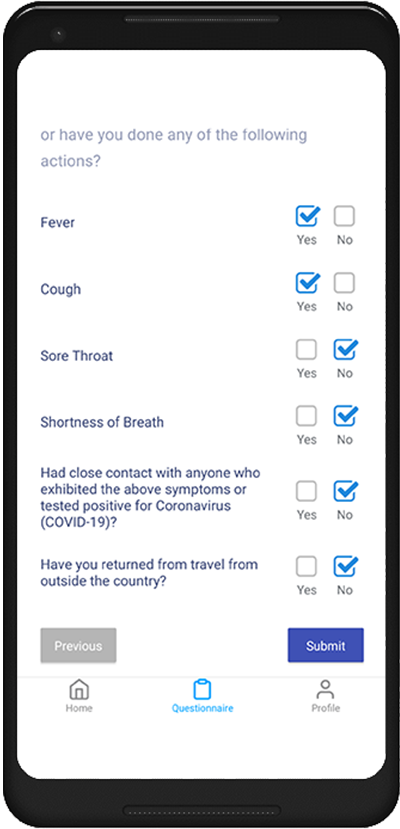 Failing to pass questionnaire results in "Company safety policies have NOT been met" message.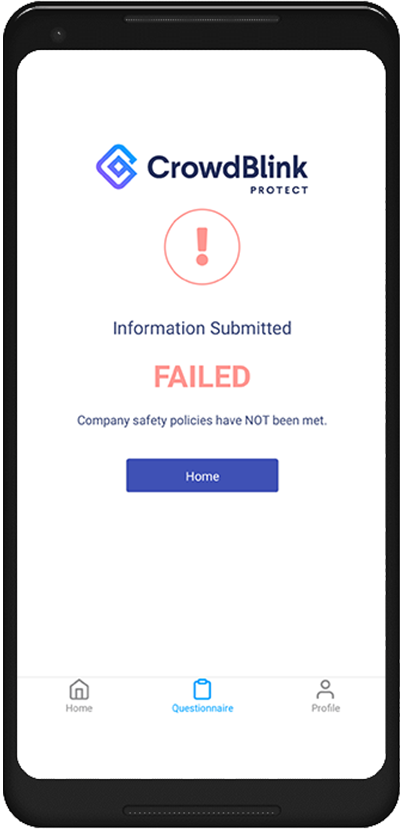 Employee self-assessment now gets tagged with a "Screening Failed" QR code.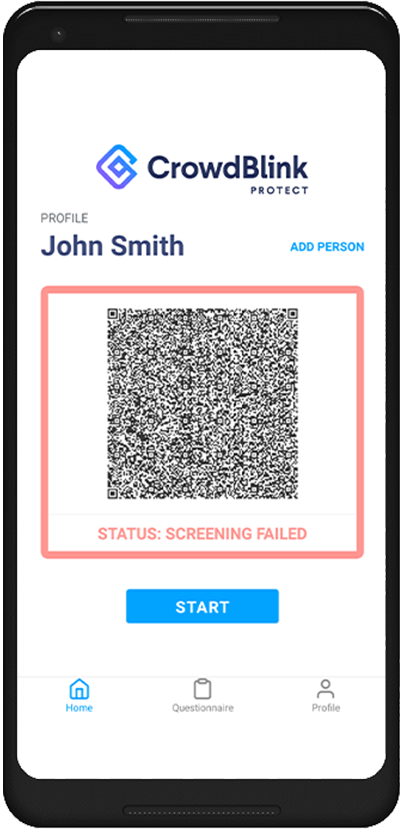 A "Screening Failed" status means that the employee or visitor should follow the company policies as they are set in the event of a FAILED result, i.e.: not proceeding to the work location. If the failed status has been generated by mistake, the other option is to have the visitor or employee re-take the self-assessment.
Can I customize the self-assessment?
The entire self-assessment process can be customized — from changing the questions to having the employee go through additional, for example also requiring them to report their temperature.
For an overview on customizing assessments, read help documentation on how to customize assessments.
How do I view the self-assessment results?
You can find the results of your employee and visitor self-assessments from the Protect admin console's Reporting menu, then either view aggregate reports of all your locations, or download .csv logs filtered by location and date range.
IMPORTANT: "PASS" self-assessments will only appear in reports if an employee or visitor actually gets scanned into the location, whereas "FAIL" self-assessment results will show up even if the individual with a FAIL does not get screened — since after receiving a FAIL result individuals may not proceed to your location.
Can my visitors and employees do self-assessments without a mobile device?
CrowdBlink Protect does not support self-assessment functions without a mobile device.
Any employees and visitors who do not have access to a mobile device can instead be assessed through the Centralized Screening process, either by scanning their employee badges or by having their information typed in manually.
Related: