Enabling parent-child assessments is an easy way to do Covid-19 screenings for child care centers and schools.
CrowdBlink Protect is being used by child care centers and schools to screen for Covid-19, so we make it easy to do assessments for the whole household.
How do I enable parent-child assessments to screen for Covid-19?
To enable parents to do Covid-19 symptom assessments for children, simply:
Log in to the Protect admin console.
Go to Settings, and open the Company Settings tab.
Enable "Multi-person self-assessment"
Click "Save Settings"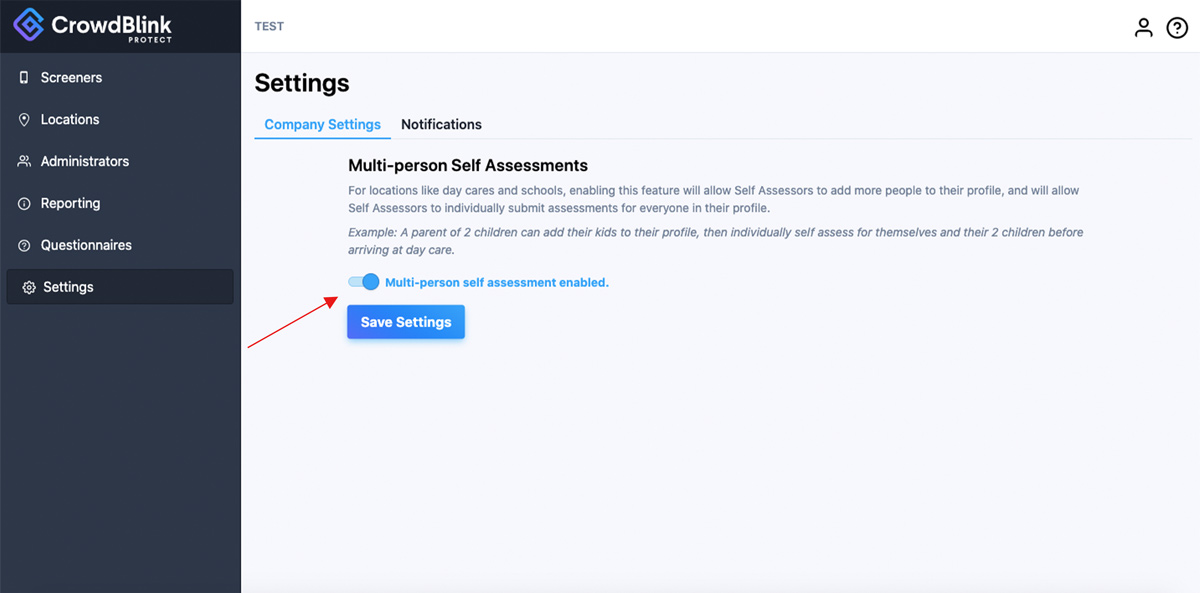 How do parent-child assessments work in the Protect app?
Once multi-person self-assessments have been enabled, an individual can use a single mobile phone to do self-assessments for multiple people, i.e.: parents can do assessments for children. Here's how:
From the home screen, select Add Person:


In the popup menu, click the plus icon and enter the child's name:


After the child's information has been entered, click Switch to activate their profile:


With the child's account active, you can go through the self-assessment steps as usual:


And that's it! A parent may add as many children to their self-assessment account as needed.
Related: How to conduct self-assessments with CrowdBlink Protect.